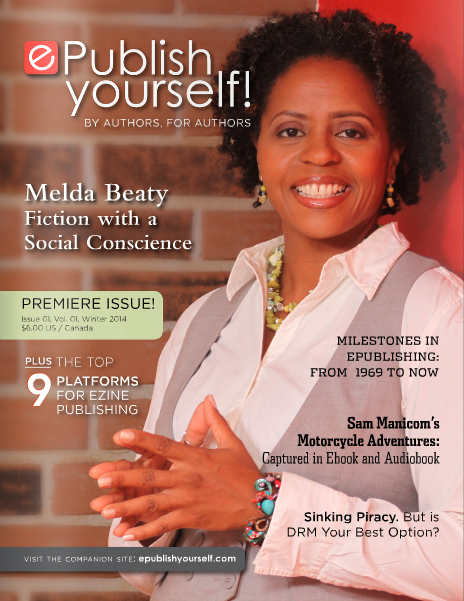 » Interview with author/playwright Melda Beaty
» Interview with author and adventurer Sam Manicom
» Top nine e-zine platforms compared
» Sinking Piracy: But is DRM your best option?
» Milestones of ePublishing: A graphical timeline
» Amazon Kinde Direct Publishing Quickstart Guide
» News, intelligence, and more…
Read Now
Fiction with a Social Conscience: An Interview with Melda Beaty
As an author, playwright, college English assistant professor, and educational consultant, Melda Beaty's work embraces social consciousness as a key theme. In this interview, she shares her insights into building a career as a self-published author, marketing strategy, and interacting with readers.
Publish Your Digital Magazine
The rules of the game are changing at lightning speed, causing traditional magazine publishers to scramble and rethink their approach. Not surprisingly, this opens many opportunities for enterprising independents. Here are 9 top platforms to consider for launching a digital magazine.
Sinking Piracy. But is DRM Your Best Option?
Although many authors feel DRM is the best way to protect their works from theft, in practice DRM often creates more problems than it solves. This perspective explores the pros and cons of applying DRM to literary works and suggests an approach that makes sense for authors weighing the various options.
Sam Manicom's Motorcycle Adventures: Captured in Ebook and Audiobook
Sam Manicom has built a thriving, loyal readership around a very focused genre: motorcycle travel books. Sam shares his experiences and adventures—from the cultural insights gained travelling around the world by motorcycle to the lessons learned in creating and promoting his first ebook and audiobook.
Kindle Direct Publishing Quickstart
Authors ready to get started with indie epublishing typically have a tough time grasping the big picture. There is a ton of information available, but sorting it and filtering can be a challenge. In this quickstart, we chart the simplest course possible for getting your book off the computer and on to Amazon's Kindle Direct Publishing platform.
Milestones in ePublishing: From 1969 to Now
From the time the first glimmerings of the Internet began taking shape, ePublishing has advanced in fits and starts, each new technology and capability moving us further along a path where words can traverse geographical boundaries in a flash and independent authors can reach worldwide audiences. .